DC² Die Cast Design Center™
Service Detail from Chicago White Metal Casting, Inc.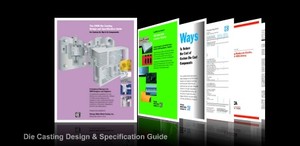 Your resource for better design, specifying, and sourcing.
Indispensable information for OEM product designers, engineers and purchasing managers/specifiers, and product design consultants.
Design Guides:
Valuable design guides covering everything from cost cutting to design specifications and finishing alternatives.
Engineering Bulletins:
Publications covering everything from design preplanning to alloy evaluation and prototyping to production specifications and final finishing.
Application/Tech Briefs:
Informative white papers published to offer greater detail on specific application concerns.
Case Studies:
Al, Mg, and Zn die casting case studies covering a wide range of medical, telecommunications, commercial, industrial and recreational applications.
OEM Die Casting Design Seminars:
On- and off-site seminars covering product design strategies and the most widely used die casting alloys and methods.
Reference Manuals:
In-depth die casting design reference manuals and CDs from the North American Die Casting Association and Chicago White Metal Casting.
On-Demand Webinars:
Five- to fifteen-minute mini-slideshow presentations on subjects of on designing, specifying, purchasing custom components, etc.
Resources for OEM Buyers:
Die casting specification guides, custom sourcing aids and reference materials.
Frequently Asked Questions:
Answers for those new to the die casting production process or who wish to refresh their knowledge base.
DC² Die Cast Design Center™
---