Product Announcement from Chroma Technology Corp.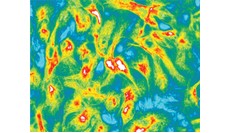 Typical transmission through excitation and emission filters has been increased to 93-97%. All ET sets are sub-pixel image registered by design, at no additional cost to you.
49000 ET Filter Sets 59000 ET Dual Band Filter Sets 69000 ET Triple Band Filter Sets 79000 ET Ratiometric Sets 89000 ET MultiBand Sets - Single Excitation and Emission
Chroma Technology Corp. is pleased to offer high-throughput Modified Magnetron sputter-coated filter sets (the ET Series). As in the past, Chroma Technology has taken an existing technology and refined it to meet the specific requirements of fluorescence microscopy. We've been working with scientists for fifteen years learning about the particular demands that fluorescence filter sets must meet to perform optimally. This new technology is a powerful addition to our existing array of manufacturing abilities and engineering skills.
Fluorescence filter sets manufactured using the Modified Magnetron process address the need, in many applications, for better throughput and provide more durable coatings for adverse environmental conditions.
The results are striking. Typical transmission through excitation and emission filters has been increased to 93-97%. This, combined with stricter spectral tolerances and the pass-band steepness of our HQ series, results in significantly improved signal detection when protein expression or dye labeling is uncertain. The brightness of a typical fluorochrome can often be increased over 50%, or the exposure time can be reduced roughly in half.
Many of the new filters will be made on a single substrate, allowing more flexibility in design. The new filters are directly coated with durable materials on a custom glass or fused-silica substrate. The ET filters do not rely on epoxy for environmental durability and none of the current ET sets have epoxy in the light path. Though the coatings are exposed, they are remarkably tough.
Not all the individual filters in the ET series will use Modified Magnetron technology. Since too much UV excitation light can be deleterious in many applications, the new DAPI set will use an attenuated excitation filter matched with a high-throughput ET emission filter.
As we've done throughout our history, we will continue to work closely with researchers to determine the best, application-specific filter sets possible. Other companies have taken technology designed for the telecommunications industry and adapted it to make filters for fluorescence microscopy. Chroma capitalizes on its experience in fluorescence microscopy to make optics carefully tailored to that demanding field of research. We have made it a top priority to learn more about your individual needs than any other coating company, and like our customer service, our filter sets are designed to make your work easier.
For direct contact please email sales@chroma.com
You have successfully added from to your part list.
---