Specialty Formulas for Blasting
Product Announcement from Church & Dwight, Inc. Specialty Products Division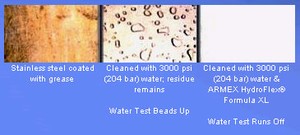 Specialty formulations offer a range of benefits, including providing a smooth finish on delicate substrates; a uniform granulation for micro - abrasive blasters; outstanding grease and oil removal and efficient removal of carbon and mineral deposits from turbine blades and engine components.
HydroFlex® Formula XL
Designed specifically for use with pressure washers and associated injection systems. HydroFlex combines our largest crystals and standard moisture control system with our patented grease and oil removal technology which encapsulates soils lifting them from the surface so they are completely removed during rinsing. May also be effectively used in air driven systems.
---