Product Announcement from Clean Air Products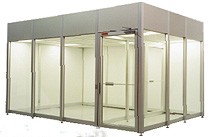 Series 591
Vertical Flow Hardwall Portable Clean Rooms
The Series 591 Portable Clean Rooms are a free standing, rigid wall, modular, prefabricated cleanroom system that is designed to provide superior cleanroom performance and esthetic appeal. Its modular, prefabricated design combines functionality with flexibility to create systems that will meet your cleanroom needs of today and into the future.
These Portable Clean Rooms are available from Class 100,000 to Class 10. The Portable Clean Rooms are available with open free spans from 6 to 34 feet and interior room heights of 8 to 14 feet. Multiple rooms can be combined to form larger cleanroom systems. The system allows for additional sections to be added to existing rooms to expand the cleanroom at a future date.
The Series 591 Portable Clean Rooms have high visual appeal and is often used as a showcase cleanroom system. The large clear walls offer good visibility in to and out of the room. Clear anodized aluminum panels cover the filter, light area above the drop ceiling so the exterior has a clean appearance.
The rigid wall design allows the clean room to operate at higher internal pressures than may be found in other types of cleanroom systems. This pressure is adjusted through variable wall dampers that regulate the flow of air out of the room that controls the internal room pressure.
Features of Portable Clean Rooms:
Modular and prefabricated
Modular and prefabricated
Free-standing; does not become part of the building
Can be easily and quickly relocated
Large open spans up to 34 ft.
Interior clear height 8 to 14 ft.
Room Class 100,000 to Class 10
Esthetic design, visually appealing
High quality performance
Easy to assemble
Expandable and upgradeable
Single pass or recirculating
Internal room pressure adjustable up to 0.06 in. W.C.
Beauty and Performance by Design Clean Air Products has been designing and manufacturing high quality cleanroom systems, components, equipment and supplies for a broad range of applications since 1969, including those in the semiconductor, biomedical, pharmaceutical and aerospace/military industries, among others.
Are you looking for a replacement part for an existing system?
You have successfully added from to your part list.
---