J-Series Quick Connect Fittings
Product Announcement from Clippard Instrument Laboratory, Inc.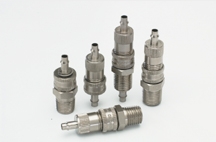 Clippard's Minimatic® J-Series quick connect fittings are very compact yet provide a high flow of 14 scfm @ 100 psi. The electroless nickel plated brass body is available with #10-32 threads (M or F), 1/8" NPT threads (M or F), 1/4" NPT threads (M) or a 1/8" hose single barb configuration that is ideal for use with Clippard 3814-6 polyurethane hose.
The J-Series quick connect consists of two component parts that are joined to form the complete connector. The valve body contains a 2-way spring-loaded poppet valve that is generally connected to the main air supply. When the poppet is not depressed, the air supply is shut-off by this valve. The Cap contains a valve depressor that when assembled to the valve body, depresses the poppet allowing air to flow from the main supply to circuitry or equipment downstream. Valve body & cap assemblies contain both components.
---