Custom Medical Grade Silicone Cables
Product Announcement from Coast Wire & Plastic Tech., LLC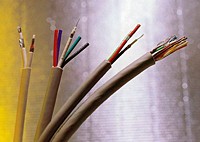 CoastFlex Cables are designed for use in Medical Devices, Instruments, Dental Applications, etc.
Silicone cables were designed for use when subjected to extreme temperature changes. They are heat resistant for permanent temperatures up to +180°C/+356°F, and short time for operation to +220°C/+428°F. These cables have great environmental resistance properties and can be used at temperatures as low as -60°C/-76°F. Silicone cables are halogen-free and are especially suitable for installation in power stations. They have also found their uses in steel producing industries, aviation industry, ship building as well as in ceramic, glass and cement factories.
Due to the elastic characteristic of conductor insulations, these are used as flexible connection cable.
= The product is conformed with the EC Low-Voltage Directive 73/23/EEC and 93/68/EEC.
Quick links to our extensive line of wire and Cable Capabilities:
About Us:
We've been manufacturing quality Custom Wire and Cable products for over 45 years. We purchase the copper, insulate, cable, shield and jacket it in our 60,000 sq. ft. manufacturing facility in Carson, CA (South of Los Angeles). Never a minimum billing or quantity, we've made 25 ft. of Cable for a customer and 1 Coil Cord. We can make the outer jacket any color of your choice and print your company name, logo, part number, phone number, etc. on the Cable at no charge.
---