CoastFlex Custom Cables Food Processing Industry
Product Announcement from Coast Wire & Plastic Tech., LLC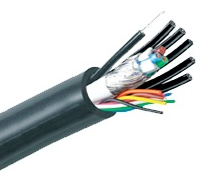 Click here to view a sampling of our products and capabilities
Custom Cable & Wire, Specialty Cable Manufacturing: What we are known for is prototyping cable for unique applications and high-volume specialty cable and wire for OEM inclusion in products you use and depend on and the markets include: Automotive, Medical, to Atomic Power Plants and most everything in between.
Medical Cables: Magnetic, Non-magnetic MRI cables, EKG, disposable or reusable Surgical Pencil Wires, Duo Torso Coil Cable (we utilize FDA and medical grade approved compounds in our medical cables - let us help with your unique applications.
Load Cell and Transducer Cables: All of our products are jacketed with heavy duty, abrasion resistant and crush proof polyurethane.
Specialty Electronic Wire and Cable Products: Each of our extruders is equipped with an LED micrometer to ensure that the cable meets our customers' requirements from a dimensional standpoint and that it meets their electrical requirements as well.
Entertainment Cables: DMX Cables, Multicables - DMX Cables - Color Changer Cables - Custom Cables - Composite Cables - Speaker Cables - Audio Cables, etc. We use Socapex, XLR, Spacecraft, Veam, Bates, Rosco, Neutrik, Kupo and a variety of other types of connectors. We carry this material as a standard stock product in a variety of cut lengths as well as bulk products.
Coaxial Cable, Specialty Coaxial and Triaxial Cable: We offer low noise coaxial cables that are used in the high quality, high technology manufacture of electrochemical analytical sensors.
About Us:
Coast Wire & Plastic Tech., Inc., is a manufacturer of custom electronic wire and cable products, for the medical, instrumentation and commercial electronic industries.
---