Phaco Emulsificator Replacement Cables
Product Announcement from Coast Wire & Plastic Tech., LLC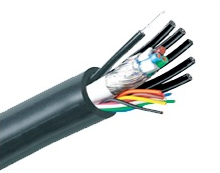 These high cost Medical Device hand pieces have a life span of about 500 procedures due to cord damage, connector/tip damage, jammed needles, etc. Going back to the Mfg. can be expensive and time consuming. At Coast, we can mfg. exactly the quantity that you want in any color you want and when you want it. Silicone, PVC, Polyurethane and much more. If you can't find it, we can make it!
Coast Wire has been manufacturing quality Custom Wire and Cable products since 1962. We purchase the copper, insulate, cable, shield and jacket it in our 60,000 sq. ft. manufacturing facility in Carson, CA.
The birth of a Cable begins to evolve as the specifics of the device or application become known. Once you conceive what the Cable must do, the thought process migrates towards the overall Cable construction. This part of the process can come from you, your customer, industry standards or the improvements required of an off the shelf Cable that doesn't quite work the way you need it to. Our Custom Cable Engineering Department will review your criteria and requirement and begin the planning process with your input of how the Cable should be constructed.
Before you know it, you have received a very professional highly detailed specification. The specification provides detailed dimensions, components, and colors for the Cable or Lead Wire. If changes are required, you simply make them on the specification provided and return to us and we'll incorporate the changes into a revised specification. This is immediately send back to you. When the specification is approved and signed off on, we now begin the manufacturing process.
Coast Wire & Plastic Tech.
1048 Burgrove St.
Carson, CA 90746
Ph: 800.514.WIRE(9473)
Fx: 310.763.CABL(2225)
www.coastwire.com
---