Quality Oceanographic and Marine Cables
Product Announcement from Coast Wire & Plastic Tech., LLC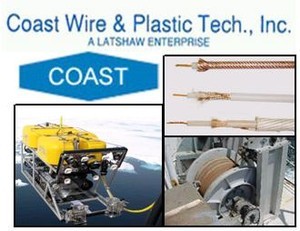 Coast is a relied on manufacturer of Oceanographic & Marine Cables.
Applications include BOP Cables, ROV Cables, Logging Cables, and Specialty Cables. Our customers demand products that can be used in a variety of applications (Towing Instrumentation Packages, Lowering Instruments, Mooring Buoys, and Measurement).
Quick Links:
Coast manufactures all of their products in Carson, CA. We purchase the copper, insulate, cable, shield, and jacket it in our 60,000 sq. ft. manufacturing facility. We have no minimum billing or quantity. In addition to raw cable, we also manufacture coil cords. We can make the outer jacket any color of your choice and print your company name, logo, part number, phone number, etc. at no charge. Deliveries generally run 2-4 weeks, depending on the construction. Price quotations are available within 24 hours. Coast has been supply quality products for over 45 years. In addition to custom products, we can also manufacture the standard Alpha/Belden/Lapp products that are sold directly to the end-user. We offer you backup inventory, scheduled deliveries, special put-ups, etc.
Coast Wire's passion and expertise is defined by working with clients who have custom requirements across all industries, including (click below to learn more...):
View a brief movie of Coast Wire's unique and industry leading capabilities here...
Or for more information, ask an application question or to request a quotation, please email us what you are looking for...
About Coast Wire & Cable Tech:
Coast Wire & Plastic Tech., Inc. an ISO 9001 and RoHS compliant company has manufactured quality wire and cable products for over 45 years. With a focus in the Medical, Automotive, Robotics, and Entertainment industries being a custom manufacturer is second nature to them.
Coast can provide you with special, ultra flexible composite cable that's comprised of different AWG sizes, vent tubes, twisted pairs/triads, low noise, and a variety of shielding and jacketing materials to meet your exact requirements
Quality is our driving force
---