New Checker® 232
Product Announcement from Cognex Corp.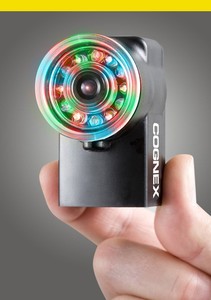 Cognex has added the Checker® 232 model to its award-winning Checker vision sensor product line. Designed to inspect small features over a wide area, Checker 232 provides reliable inspection results on the fastest production lines, detecting and inspecting up to 1,500 parts per minute.
Checker 232 is ideal for applications where small features are being inspected on large parts, such as the inspection of clips and springs on large automotive assemblies. Checker 232 is also ideal when a much longer working distance is needed and the vision sensor must be mounted far from the area to be inspected.
"Customers value the simplicity and power of Checker vision sensors because they offer a very cost-effective option for inspections where traditional sensors are not reliable and a full-blown vision system is too expensive," said Pascal Dorster, Senior Director, Vision Sensors Business Unit. "The Checker 232 extends the versatility of the Checker product line so customers can solve a broader range of inspection applications more effectively."
Unlike traditional sensors, there's no limit to the number of part features that a single Checker can inspect. Checker uses patent-pending multi-image analysis to determine if a part is present without an external trigger, greatly simplifying installation. This unique capability also enables Checker to track parts in varying positions along the production line, overcoming imprecise part positioning and delivering consistent, precisely timed pass/fall results. No other sensor, vision sensor, or vision system can do this.
The Checker 200 series are simple to set up, small enough to fit almost anywhere, and offer IP67 protection. Checker 232 joins three existing 200 series models: The Checker 200 for part detection, the Checker 201 for part detection and inspection, the Checker 202, with ladder logic when more complex pass / fail decisions are needed. The Checker 232 combines the features of the 202 with the ability to inspect smaller features over a larger area. Checker 201, 202 and 232 are available with the Cognex SensorViewTM 350, a compact, industrial, panel-mount display. The Checker 232 is currently available.
For more information or to download free trial software visit http://www.cognex.com/232/.
About Cognex
Cognex Corporation designs, develops, manufactures, and markets machine vision sensors and systems, or devices that can "see." Cognex vision sensors are used in factories around the world to automate the manufacture of a wide range of items and to assure their quality. Cognex is the world's leader in the machine vision industry, having shipped more than 400,000 machine vision systems, representing over $2 billion in cumulative revenue, since the company's founding in 1981. In addition to its corporate headquarters in Natick, Massachusetts, Cognex also has regional offices and distributors located throughout North America, Japan, Europe, Asia, and Latin America. Visit Cognex on-line at http://www.cognex.com/.
You have successfully added from to your part list.
---