Product Announcement from Columbia Research Labs, Inc.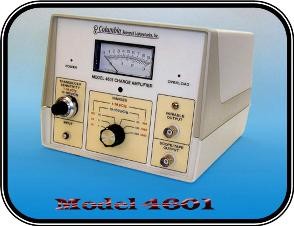 Columbia Research Labs., Inc. introduces the Model 4601 a Low Cost/High Performance, general purpose charge amplifier for laboratory signal conditioning of piezoelectric accelerometers and pressure transducers. The Model 4601 features 500mV/pC maximum sensitivity, a calibrated transducer sensitivity control to match the Model 4601's gain to the transducer's calibrated sensitivity, 10 volt peak to peak full scale output with more than 20 volt peak to peak output before clipping, dual outputs (fixed and adjustable) and a built-in meter and over load indicator.The frequency response of the Model 4601 is flat from 2Hz to 20KHz and residual noise is less than 0.01pC rms over the full bandwidth with 1000pF source capacitance.
Visit Columbia Research Labs at www.crlsensors.com to view the entire CRL sensor line, or send a request to sales@crlsensors.com
Our sales and engineering staff will be happy to help find an accelerometer that best fits your needs.
You have successfully added from to your part list.
---