General Purpose Rectifiers 1N4001-G - 1N4007-G
Product Announcement from Comchip Technology Corporation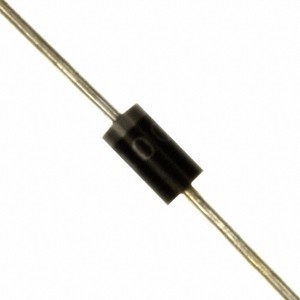 Comchip's 1N4001-G through 1N4007-G general purpose rectifiers utilize the industry standard axial-lead DO-41 package. Comchip's DO-41 package design is ideal for low forward voltage drop, high surge current capability, and fast recovery applications. Most commonly used in AC adapters for everyday consumer electronics and household appliances, the part's applications are endless. Comchip strives to exceed market demands with quality products at a remarkably low price. With a current of 1 amp, voltage applications range from 50 to 1000 volts. The "-G" indicates Comchip's RoHS compliant devices.
Features
• Diffused Junction
• High Current Capability and Low Forward Voltage Drop
• Low Reverse Leakage Current
• Lead Free Finish
• RoHS Compliant
• Unique manufacturing results in lower costs
• High soldering temperature: 260°C/10 seconds, 0.375"(9.5mm) lead length at 5lbs(2.3kg) tension.
Mechanical Data
• Case: DO-41
• Case Material: Molded Plastic. UL Flammability Classification Rating 94V-0
• Terminals: Finish - Bright Tin. Plated Leads Solderable per MIL-STD-202E, Method 208C
• Polarity: Cathode Band
• Mounting Position: Any
• Weight: 0.30 grams (approximate)
Digikey P/N's
641-1310-3-ND
641-1310-1-ND
641-1310-6-ND
641-1311-3-ND
641-1311-1-ND
641-1311-6-ND
641-1312-3-ND
641-1312-1-ND
641-1312-6-ND
---