RF Shielding Specialists!
Product Announcement from Compac Development Corporation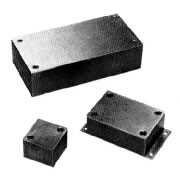 Compac Development Corporation, established 1976, is the only manufacturer that specializes in meeting your RFI/EMI shielded enclosure requirements.
Compac offers an extremely versatile line of off-the-shelf shielded enclosures plus the additional capability of customizing our standard product lines, manufacturing to your specs, from prototype to production.
To further support the design function Compac offers a broad selection of RF accessories, gaskets, coaxial attenuators, coaxial terminations, filter feed-thrus, connectors, mounting bars, etc.
The Compac concept is geared to fast, accurate, dependable deliveries that meet the most demanding delivery schedules.
Email us your specific questions
Request a quote for your custom applications
SERVICES
Milling -- Enclosures, Channels, Grooves, as Required
Holes -- Drilled or Punched
Material Thickness -- To Your Specifications
Silkscreening or Painting
Construction Methods -- Extrusion, Die Cast, Brazed, or Milled
Covers -- To Your Specifications
ADVANTAGES OF A CUSTOM ENCLOSURE
Low Cost To Your Exacting Specifications Short Lead Times Prototype to Production Quantity Finished Product Ready for Assembly With or Without Connectors & Filters
Compac's unique product line can easily be tailored to meet your many specifications. But if our RFT, Blank or SRF Series do not fit your basic requirements, Compac can build a totally custom enclosure quickly and inexpensively. Compac's versatility converts your design into a finished product ready for assembly and installation. All you have to do is supply the circuitry!
-- Print or Detailed Drawings Required --
---