Product Announcement from Comus International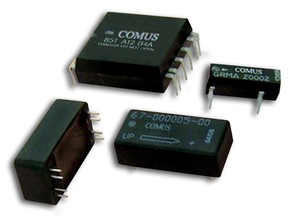 A Reed relay consist of a reed switch and coil fitting into a housing which could be plastic, metal or moulded. Reed relays generally have a faster response time than electro-mechanical relays, lower coil consumption and are smaller in size. Furthermore, the switch is sealed in a dry inert atmosphere preventing the ingress of contaminants. It also minimizes arcing and contact damage.
Compared with electro-mechanical relays, reed relays are smaller in size and generally have a faster response time, lower power consumption and longer life. They can also directly be driven by TTL/CMOS. Compared with solid state relays, reed relays have a real galvanic isolation between input and output. The leakage current and the ON-resistance is much lower. Reed relays also can offer a higher dielectric strength.
Reed relays have outstanding performance in insulation and stand-off voltage. Energizing the coil operates a reed switch, causing the contacts to close, to open or to change over. It is important that the switch is not overloaded by applying loads in excess of the switch ratings.

Product subcategory:
• Dry Reed Relays
• Mercury Wetted Relays
• High Voltage Reed Relays
You have successfully added from to your part list.
---