Conductor Bar: Safe-Lec 2
Product Announcement from Conductix-Wampfler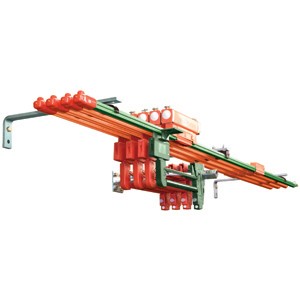 Safe-Lec 2 is easy to install!
Uses multiple-pole hangers - holds multiple bars and installs with a single bolt
Fewer splice joints - 14.75 foot (4.5 Meter) rail lengths require fewer joints than other systems. One-piece, snap-on joint covers.
Joint hardware is pre-bolted to bar ends to save installation time
Fewer thermal expansion joints required- up to 150 meter runs without an expansion joint!
Snag-proof collector cables - cables are integrated within each collector arm
Slotted hanger supports - to accommodate system alignment variations
Options:
Heater wire systems for cold conditions
Stainless steel hardware
Green bonding (ground) conductor covers
Black "UV resistant" outdoor covers
Curved systems - up to a 60" radius.
Download the full Safe-Lec 2 / Hevi-Bar II catalog from our web site. If you specify a lot of electrification products, ask about the Conductix-Wampfler advanced Quick Quote software!
Contact Conductix-Wampfler today with your conductor bar (conductor rail) requirements!
---