New Motorized Festoon Trolley for Container Cranes
Product Announcement from Conductix-Wampfler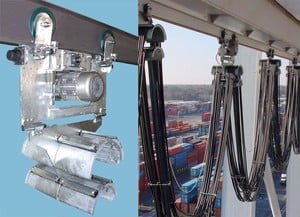 Omaha, NE - October 24, 2006 -- Conductix will unveil a new motorized festoon trolley for heavy-duty cable festoon systems at TOC2006 Americas (Nov. 28-30). The new product enables port crane maintenance managers to optimize cable life by adding motorized trolleys to an existing "passive" system or to a new system.
The launch of the new trolley comes at a time when port operators are demanding ever increasing productivity from container cranes, while also needing to reduce maintenance costs and downtime. Cranes must be able to lift heavier loads, operate at higher speeds, and achieve greater acceleration. This increases the demand on crane components, such as large cable packages and festoon systems. These large cable packages are very costly and the expense is recurrent if cables need to be frequently replaced. That is why the design of cable management systems that optimise cable life is a priority for Conductix.
Mike Bjornstad, Festoon Product Manager at Conductix, comments: "Motorized festoon trolleys are not new to the market. These types of trolleys operate at many ports around the world. However, port operators will appreciate the additional flexibility of our new motorized trolley. This product can adapt to almost any size and type of running beam. The drive system suspension is spring-loaded, which allows the trolley to operate over uneven surfaces and follow less-than-perfectly aligned beams. In addition, the trolley is propelled by a direct-drive gearbox, which eliminates the need to replace drive belts. Any other required maintenance is very straightforward. This results in minimal down time, cost savings, and optimum operation."
The motorized festoon trolley is a significant development in the company's well established range of heavy-duty cable festoon systems, which include a wide variety of running gear options to fit most beam sizes and types (metric and American), single-tier and double-tier saddles, and assorted system accessories, including shock cords, tow cables, cable organizers and protective sleeves.
Conductix designs and manufactures mobile electrification solutions for the port industry. Its products include conductor bars (used at most US West Coast ports), magnetic couplers and "smart-drive" motorized reels, spreader reels, TrenchGuardTM cable protection systems, slip ring assemblies, and pendant/radio controls. For more information please visit www.conductix.com
For more information, press only: Contact Laurie Valery, (402) 952-9354
For more product information on the Motorized Festoon Trolley: Contact Mike Bjornstad, (402) 952-9327
###
---