Pendants Series 8000 & 2000
Product Announcement from Conductix-Wampfler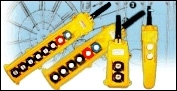 CONDUCTIX / INSUL-8's Series 8000 and Series 2000 push button pendants are ideal for controlling material handling systems.
· Series 8000 is available in two to twelve buttons and features a safety-yellow enclosure, single/two and /three speeds, neoprene booted buttons, simplified field wiring, thanks to two-piece enclosure, UL & CSA approved.
· Series 2000 is available in two-button, features an ergonomic comfort design, internal and external strain relief for more comfortable operation.
CONDUCTIX / INSUL-8's complete line of push-button pendant stations are ergonomically designed for single hand operation featuring minimal-force push-buttons to significantly minimize operator fatigue while maximizing control. CONDUCTIX / INSUL-8's 2-12 button pendants feature high-impact resistant 2-piece enclosure to simplify field wiring. CONDUCTIX / INSUL-8's 2 button "pistol grip" pendant (less than 2" across) features easy pressure switches. Push-button pendants are used in conjunction with conductor bar, festoon systems or reels as "point-of-control" stations for overhead cranes, hoists, and conveyors and numerous other machinery that require operator control.
---