Product Announcement from Conductix-Wampfler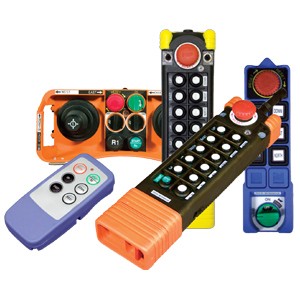 Conductix-Wampfler (formerly Insul-8 Corporation) has sold ergonomic, economical, and high quality radio remote controls since the mid 1990's. We offer several models uniquely suited to the demanding needs of industrial users. All units are shipped from stock for quick delivery and are competitively priced. Our sales people are experts in applying radio remote controls in industrial situations. All Conductix-Wampfler plants are ISO 9001:2000 certified.
Economical, compact Protean™ Series radio remote controls provide safe and reliable operation for many types of electrical machinery. Protean transmitters operate on FCC 310-320 MHz (FCC Part 15 - no license required) and have a range of 330 feet (100 meters). They are available with a "power on" button plus 4, 6, or 8 single-speed buttons to control one, two, or three motions. Transmitters run on two AA batteries and are housed in a shock-resistant case. Proteans offer several safety features such as jammed button detection and LEDs on the receiver for contact closure status.
Also in the Protean line, the HT Transmitter is ideal for controlling hoist and trolley movement. It features four dual-speed buttons for up/down/east/west control, E-Stop Switch, and removable Key Start on/off.
And last in the Protean line, the six-button L8 Series, is suitable for single-speed operation of three motions: hoist, trolley, and bridge. Also has EMS (emergency mushroom stop) and removable water-proof key on/off switch.
Next step up from the Protean radios are the L10 Series and L12 Series that also operate on FCC 310-320 MHz for safe and secure control. These radios are an incredible value and are capable of handling the majority of factory overhead crane control needs. Operation is straight forward and the radios are easy to set up and use. The L10 features eight dual-speed buttons for up to four motions. The L12 features twelve dual-speed buttons for up to five motions. Both versions also include EMS and Key On/Off Switch. Transmitters run on standard alkaline batteries and are housed in shock-resistant cases and have jammed button detection. Kits include either one or two transmitters, four batteries, strap, spare key, spare fuse kit, legend sheets, and instruction manual.
The last in the L Series is the L40, which features a "belly box" style transmitter with dual 5-speed joysticks, EMS, key switch, two selectors, and two push-buttons. Can control up to 8 motions with the A-B-Both switches. the L40 has two programmable outputs, mainline output, and light output. Kits include the same types of items as the L10 and L12.
The top-of-the-line radios are the K-Series, which feature increased capability and flexibility for the most demanding radio control needs. The K Series radios operate from 433.05 to 434.775 MHz depending which channel has been selected. There are 70 available channels and the radio can be set up to Auto-scan all 70 channels, pick the clearest two channels, then operate on the the clearest of the pair on at each start.
K Series radios feature many enhanced safety features, such as:
EMS (emergency mushroom switch) certified to EN-ISO 13849-1 Category 4
Buttons certified to Category 3
Dual independant microcontrollers
Dual mainline relays connected in series, each independantly controlled
Current-sensing jammed relay detection circuit
Double contact on EMS transmitter
Each K Series radio offers many advanced features such as:
Remote pairing
Pitch and Catch Operation
Auto-scanning
Adjustable emissions control
The radio can be configured to handle a variety of functions such as:
On/off, maintained, or momentary buttons, with or without interlocking
Anti-plugging and multiple speed time delays
Magnet operation mode
Additive and make-before-break (2-speed control)
independant Receiver and transmitter time-outs (power off)
K1/K2 transmitters have eight buttons for up to four motion control. Each comes also with E-Stop, Key Switch, and on/off. Each has 0 to 2 programmable auxiliary outputs, alarm output, mainline output, and light output. K1 is single speed; K2 is dual-speed.
K3/K4 transmitters have twelve buttons for up to five motion control. Each comes also with E-Stop, Key Switch, and on/off. Each has 2 to 7 programmable auxiliary outputs, alarm output, A/B output, mainline output, and light output. K3 is single speed; K4 is dual-speed.
You'll not find a better radio that the K Series in this price class!
You have successfully added from to your part list.
---