Reels
Product Announcement from Conductix-Wampfler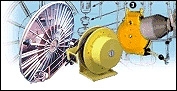 Spring Driven and Motorized:
CONDUCTIX / INSUL-8 offers a wide range of standard and specialty reel designs to meet your application requirements. Many of their reels are available as hose reels and welding reels. They can also customize certain reels for marine duty, left-handed operation, and a host of other options.
· Their POWEREEL line is available in four designs: 1200 Series, 1400 Series, 1900 Series, 2400 Series (each series roughly references the flange diameter of the reel.) POWEREELS are an effective and economical way of managing cable without sacrificing the rigorous durability standards for which CONDUCTIX / INSUL-8 is renowned.
· D, E, F Series offers customization and heavy-duty performance. Some of these reels have been in service for 35-plus years.
· Motor Driven and Magnetic Coupler reels are used all over the world in equipment for ports mills, mines and other extremely corrosive and demanding environments.
Reels are used in automated machinery, boom trucks, extendible conveyors, cranes and numerous other ways where mobile power or lighting is required for safety and convenience. Whether you need a small reel for your plant or a large motorized reel for your steel mill or port equipment, CONDUCTIX / INSUL-8 has the reel for you.
---