Slip Ring Assemblies
Product Announcement from Conductix-Wampfler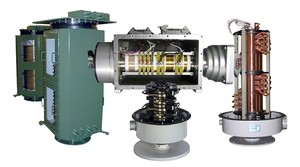 We feature:
Knowledgable Application Specialists dedicated to help you with your unique slip ring problems
Design engineers with hands-on experience using the latest in solid modeling software and R&D equipment to explore and test new designs and concepts
Assembly work cells dedicated to each major product lines to speed assembly
A full-function machine shop with the latest in CNC equipment and in-house metals cutting, welding, and finishing systems
Our flag ship line - R-Series - set the standard for quality in industrial slip ring design. They are rugged, built for long life, and easy to maintain. With an assortment of ring sizes, insulators, and bore sizes, we can assemble a ring that is ideally suited for the application. Changing brushes is a easy. Each brush can be rotated out of the holder without special tools. Individual brush holders can be removed independently. Each assembly includes a fully articulating brush system that will track the ring without fail. Rings are sized based on bore size, combined with appropriate ring sizes to meet the electrical need. We sell rings "non-enclosed" and "enclosed". We also sell them for hazardous locations and can integrate fiber optic swivels and/or pneumatic or fluidic rotary joints to the basic electrical slip ring.
---