M8 Field Attachable Circular Connectors
Product Announcement from CONEC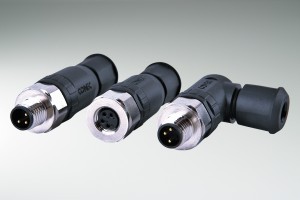 CONEC has recently added con­nec­tors with screw ter­mi­na­tion to the M8x1 field attachable connector series.
The new ver­sion is suit­able to ter­mi­nate stranded or solid wires up to a cross sec­tion of 0,5 mm² by the new screw ter­mi­na­tion. This new ter­mi­na­tion allows also the con­nec­tion of stranded wires including sleeve with­out reduc­tion of the max­i­mum allowed cross section. A cor­re­spond­ing key for the hexa­gon socket screws are sup­plied along with each connector.
The ver­sions of field-attachable con­nec­tors are avail­able as plug- and socket with 3- or 4- poles. Addi­tional to the straight ver­sion CONEC also offers a 90° angled ver­sion. The hous­ings accept stan­dard cables with 4 to 5,5mm diam­e­ter. The cur­rent car­ry­ing capac­ity of every con­tact is 4A with all con­tacts under load and 40°C ambi­ent tem­per­a­ture condition.
The oper­at­ing tem­per­a­ture range is from -30°C to 85°C. The cou­pling rings are hexag­o­nal shaped (SW13) and if nec­es­sary, a cor­re­spond­ing torque wrench is avail­able from CONEC. The con­nec­tors are IP67 pro­tected when fully mated.
---