Blending Powder & Rubber Uniformly -TPE Pellets
Product Announcement from Continental Products Corp.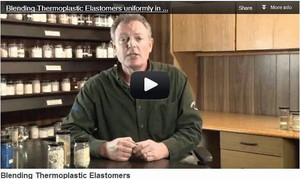 Blending Rubber Products in the Rollo Mixer Batch Mixer
One of the most challenging mixing applications we encountered involved blending nitrile rubber with powder additives. The Rollo-Mixer's dynamic mix action divides and combines these materials over 25 times per revolution while maintaining a uniform mixed product to down-line processing equipment. Not only do the two ingredients have a wide variance in particle size, but keeping them mixed while feeding the extruder is critical to producing a uniform TPE pellet. Many automotive parts like window and door seals are made from these versatile rubber pellets. Other applications include post-blending TPE pellets used to make rubber soles for the shoe and boot industry.
Continental Products manufactures the Rollo-Mixer ® Rotary drum batch mixer for mixing, blending and coating for a wide variety of applications around the world.
---