Rollo-Mixer Frequently Asked Questions Videos
Product Announcement from Continental Products Corp.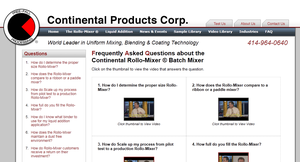 . This "F.A.Q." page is unique to the mixing, blending and coating industry, as it features ten questions which are commonly asked about the "Rollo-Mixer" ®, but in video interview format. Answers are provided by Bill Callaghan, Technical Director with Continental Products Corp. With over 30 years of experience mixing and coating dry particulates, hear his answers to the following questions……
Continental Products Corp. manufactures The Rollo-Mixer® rotary drum batch mixer which is used across a variety of industries, including; Agricultural Chemicals, Animal Feeds, Animal Health Products, Building Products, Food Products, Lawn & Garden, Gourmet Tea , Pet Care Products, Pigments & Colorants, Plastics, Recycled Products, Refractory Products, Rubber Compounds, Soaps & Detergents, Specialty Products, Stone, Clay, & Glass.
The Rollo Mixer's ability to uniformly / gently blend ingredients in 3 minutes and agglomerate, granulate and encapsulate is novel to the processing industry as well. Continental's Award Winning coating technology "Free-Fall Processing ®" allows exact amounts of liquid additives to be sprayed evenly throughout the entire batch.
The Rollo-Mixer® is available in five designs and over 125 models; ranging from 3.5 to 1400 ft3 capacity. Rollo-Mixers are designed and built to their customers' specific batch, blending or coating application. The Rollo-Mixer® has evolved into the premier batch mixer in many industries.
For over 50 years, Continental Products has been working directly with its customers in all aspects from testing, engineering, manufacturing, and start-up, to service, consulting and technical support. Continental's customers are among the leading manufacturers in their industries, setting new standards of quality and consistency while utilizing Continental's mixing and coating technology. Our test facility is equipped with a variety of Rollo-Mixer® test models, liquid spray systems and heating and cooling capabilities.
Continental Products manufactures the Rollo-Mixer ® Rotary drum batch mixer for mixing, blending and coating for a wide variety of applications around the world.
You have successfully added from to your part list.

Play Rollo-Mixer Frequently Asked Questions Videos Video
---