Rollo-Mixer Frequently Asked Questions Videos
Product Announcement from Continental Products Corp.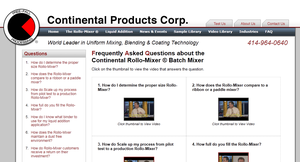 This "F.A.Q." page is unique to the mixing, blending and coating industry, as it features ten questions which are commonly asked about the "Rollo-Mixer" ®, but in video interview format. Answers are provided by Bill Callaghan, Technical Director with Continental Products Corp. With over 30 years of experience mixing and coating dry particulates, hear his answers to the following questions……
How do I determine the proper size Rollo-Mixer?
How does the Rollo-Mixer compare to a ribbon or a paddle mixer?
How do Scale up my process from pilot test to a production Rollo-Mixer?
How full do you fill the Rollo-Mixer?
How do I know what binder to use for my liquid addition application?
How does the Rollo-Mixer maintain a dust free environment?
How do Rollo-Mixer customers receive a return on their investment?
How does the Mk 8 Rollo-Mixer compare to a double cone or V blender?
What is the best way to setup a Rollo-Mixer in my process?
Can I run trials and prove that it works before I buy a Rollo-Mixer?
Continental Products Corp. manufactures The Rollo-Mixer® rotary drum batch mixer which is used across a variety of industries, including; Agricultural Chemicals, Animal Feeds, Animal Health Products, Building Products, Food Products, Lawn & Garden, Gourmet Tea , Pet Care Products, Pigments & Colorants, Plastics, Recycled Products, Refractory Products, Rubber Compounds, Soaps & Detergents, Specialty Products, Stone, Clay, & Glass.
The Rollo Mixer's ability to uniformly / gently blend ingredients in 3 minutes and agglomerate, granulate and encapsulate is novel to the processing industry as well. Continental's Award Winning coating technology "Free-Fall Processing ®" allows exact amounts of liquid additives to be sprayed evenly throughout the entire batch.
The Rollo-Mixer® is available in five designs and over 125 models; ranging from 3.5 to 1400 ft3 capacity. Rollo-Mixers are designed and built to their customers' specific batch, blending or coating application. The Rollo-Mixer® has evolved into the premier batch mixer in many industries.
For over 50 years, Continental Products has been working directly with its customers in all aspects from testing, engineering, manufacturing, and start-up, to service, consulting and technical support. Continental's customers are among the leading manufacturers in their industries, setting new standards of quality and consistency while utilizing Continental's mixing and coating technology. Our test facility is equipped with a variety of Rollo-Mixer® test models, liquid spray systems and heating and cooling capabilities.
Continental Products manufactures the Rollo-Mixer ® Rotary drum batch mixer for mixing, blending and coating for a wide variety of applications around the world.
View our>>>New Rollo-Mixer® Web Site, Optimized for Mobile-Friendly Viewing on Smart Phones and Tablet Devices
Continental Products Corp. has recently launched a new mobile friendly website featuring their line of advanced rotary drum Rollo-Mixers. www.continentalrollomixer.com will now respond and adapt according to the orientation of our visitor's screen size and resolution. Now, visitors can view our website optimally on all platforms, including smart-phones, tablets, and desktop computers.
The newly revised site is a comprehensive, multimedia resource from numerous types of blending and coating applications we have worked with for over 50 years.
See over 300 photo samples of products made in the Rollo-Mixer® from over 15 different industries. Or watch over 60 HD Videos from customer interviews to complete batch cycles from your favorite device.
From there, you can connect to our LinkedIn company page, Google + page, or our You Tube channel - which has over 60,000 views.
Thank you for visiting the Word Leader in Rotary Drum Mixing, Blending and Coating Technology. We look forward to hearing from you!
About Continental Products Corp.
watch>>>continental products corp Rollo-Mixer Batch Mixer Video Series - About Continental
Continental Products manufactures the Rollo-Mixer ® Rotary drum batch mixer for mixing, blending and coating for a wide variety of applications around the world. Since 1960, Continental Products Corp has worked directly with its customers to provide a series of custom made, industrial rotary drum mixing and coating machinery – known as the Rollo-Mixer®. Our family is committed to being the leading rotary drum mixing and coating equipment innovator, developer and provider of exclusive Rollo-Mixer® batch mixing equipment, systems, and service.
---