Rollo-Mixer ® interview - Coating granules
Product Announcement from Continental Products Corp.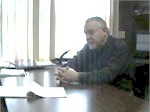 Continental Products Corporation is a World leader in uniform mixing and blending, featuring award winning coating technology - "Free-Fall Processing ®". Manufacturers of the Rollo-Mixer ® batch mixer, which uniformly blends in 2-3 minutes, while rotating @ only 3 rpm. Models available from: 3.5 -1600 cu ft working capacity. Continental works directly with its customers and manufactures custom blending and coating equipment for many industries worldwide.
Continental Products manufactures the Rollo-Mixer ® Rotary drum batch mixer for mixing, blending and coating for a wide variety of applications around the world.
---