Sanitary Dry Blending in the Mk 8 Rollo-Mixer
Product Announcement from Continental Products Corp.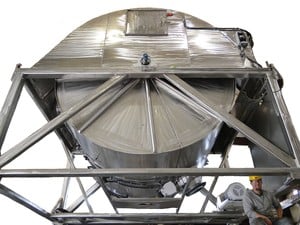 A recent factory authorization test featured Continental Products Corp's 400-cu-ft sanitary dry blender, the Rollo-Mixer Mk VIII. Data from the 14,000-lb test batch of powdered drink flavor shows complete uniformity in 5 minutes, while 10- and 15-minute samples showed no variance.
These results had the exact same uniformity shown by the sample data from the initial test done on a 10-cu-ft Mk VIII, months earlier. The customer said, "To scale up 40 times and have the same perfectly uniform results in very impressive; we could hardly tell the difference between the samples, and the control data." This mixer is equipped with a 32Ra polished stainless steel finish and has three tank-washing nozzle assemblies for CIP capability.
Continental Products manufactures the Rollo-Mixer ® Rotary drum batch mixer for mixing, blending and coating for a wide variety of applications around the world.
---