Precision High Flow Pressure Regulator
Product Announcement from ControlAir Inc.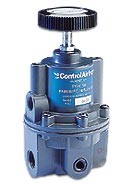 Type 700 High Flow Pressure Regulator
High flow capacity and accurate pressure control
The Type 700 is designed for applications that require high flow capacity and accurate process control. A poppet valve which is balanced by utilizing a rolling diaphragm insures a constant output pressure even during wide supply pressure variations. Stability of regulated pressure is maintained under varying flow conditions through the use of an aspirator tube which adjusts the air supply in accordance with the flow velocity.
PDF - Spec Sheet PDF - Instructions CAD Drawings Ordering Information
ControlAir Launches Mobile Responsive Website
"The new responsive mobile website gives our customers an easier reading experience viewing product specifications while out in the field" said Mark Levine, ControlAir's Director of Sales and Marketing. "Engineers and technicians are often on-site when repairs are needed and not in front of a computer. With our new mobile enhanced website, anyone can view installation and maintenance instructions easily on any type platform."
Mobile device users will be automatically directed to the mobile website when they navigate to www.ControlAir.com. The mobile website provides customers with easily accessible information such as product data sheets, product specifications, installation, operation and maintenance instructions, product drawings, certificates, FAQ's and local distributor information.
Check out our free white paper on I/P transducers
Watch>>What We Do
ControlAir Inc. manufactures precision pneumatic and electro-pneumatic controls. ControlAir's markets include process control, semiconductor, printing and converting presses, diagnostic and surgical medical equipment, robotics, quality control, automotive, analyzers, compressors, pumps and paint equipment. For more information, ControlAir's website, www.controlair.com, offers full product specifications with PDF files, 3-D Interactive Catalogs, downloadable 3-D and 2-D CAD drawings, and company profile.
---