PrevEx Flammability Analyzers Lower Energy Costs
Product Announcement from Control Instruments Corp.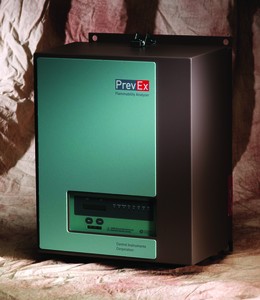 The installation of the PrevEx Flammability Analyzers in heating process ovens & dryers allows the implementation of several money-saving steps:
A reduction of ventilation air without affecting existing production rates or violating the NFPA safety directives.
An increase in production speed without increasing existing air or fuel costs
Compound savings by reusing, rather than expelling, some of a hot exhaust stream back into an oven zone
Reduction of oven exhaust rates to lower the demand on VOC destruction oxidizers
Benefits can range from a simple reduction of heated ventilation air to a combination of both reduced heating and increased production. This can result in dramatic fuel savings.
PrevEx Flammability Analyzers offer:
Fast: Less than one second response time
Universal: Gives consistent and reliable readings even when faced with multiple or changing solvent concentrations
Failsafe: Designed to ensure perfect safety under all conditions
Heated: Heated to prevent sample condensation and withstand corrosive elements
Reliable: Cannot be poisoned or contaminated
Accurate: Performs under the demands of the industrial environment
---