Product Announcement from Control Products, Inc.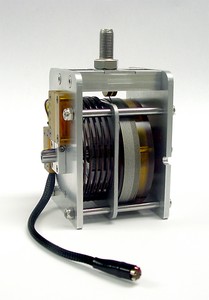 The natural extension for CPI's SL Series linear position sensors has always been to increase the sensing range. Enter the SL180, which is capable of stroke lengths to 15 feet, utilizing the same SL Series non-contacting technology. Beefed-up stainless steel construction, including a robust braided cable make this extensometer ideal for demanding applications where long life is required in a harsh environment. As with all SL Series sensors, high shock and vibration imunity come standard, and there is no core drilling of the piston rod in hydraulic cylinder applications.
SL Technology at a Glance:
Sensor resides completely inside of cylinder
No core drilling of rod required
Non-contacting Linear Variable Differential Transformer sensor technology
No end-of-stroke dead zone
No lower limit to cylinder bore size
Virtually immune to shock and vibration, regardless of stroke
One part can be used for any stroke length - simplified inventory
Hammer-proof high pressure electrical connection
The only internal sensor that can be used in telescoping cylinders
Easily integrated into high-volume hydraulic cylinder production
Can be easily mounted in piston accumulators
Stroke lengths to 15 feet
How it works
At the heart of the SL Series Sensor is a Linear Variable Differential Transformer (LVDT). Because LVDTs are non-contacting, submersible, and unaffected by pressure and temperature, they are ideal for hydraulic cylinder applications. And as a mature technology, LVDTs are well known throughout the industry for being reliable, accurate, and tough.
An integrated precision mechanism couples the long translation of the hydraulic cylinder to the short translation of the LVDT via a micrometer-like threaded element. The LVDT/micrometer assembly forms the axis of a recoil spool mechanism. The spool uses a flexible polymer-coated stainless steel cable to form a reliable, repeatable coupling between the piston and sensor. The cable is drawn off the recoil reel as the piston moves away from the sensor, and vice-versa. The entire unit is about the size of an 8 ounce coffee can and mounts easily in hydraulic cylinders, accumulators, and any other harsh environment requiring linear displacement sensing.
You have successfully added from to your part list.
---