We add value to your netting project
Product Announcement from Conwed Global Netting Solutions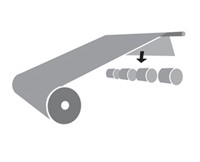 CONWED VALUE ADDED SERVICES
We offer additional services to make your product development project even easier.
Every product development project requires different capabilities and specifications to guarantee success. Our customers share their goals and we recommend the most suitable netting components and their potential transformation to deliver a superior solution.
CONWED VALUE ADDED SERVICES
Besides providing our customers engineering and R&D support from concept to commercialization, we also offer additional services such as:
Orientation
Lamination
Bonding
Converting
Slitting
Calendering
Sheeting
Our global manufacturing and distribution network allows us to serve our customers worldwide. We can help our customers from the moment they first sketch and share their ideas to the moment they commercialize their products.
PRESENCE IN DIVERSE INDUSTRIES
Conwed netting is a versatile component that performs different functionalities depending on the final product application. Whether it is to contain, protect, separate, grasp, reinforce, stretch or support materials and components, Conwed netting delivers superior performance every time. Among some of the industries we serve:
Agribusiness
Air & Liquid Filtration
Animal & Marine containment
Automotive
Bedding and Home
Building & Construction
Cargo and Shipping
Cleaning products
Composites
Crop protection
Erosion Control
Garden applications
Hygiene and Medical
Nonwovens
Produce and Meat packaging
Porous Pavers
Turf and Landscape
About CONWED
Conwed is the leading plastic netting manufacturer in the world. Conwed manufactures extruded, oriented and knitted netting with unique customization capabilities. Headquartered in Minneapolis, Minnesota, Conwed has five manufacturing locations on two continents and a global distribution network.
Visit us: www.conwedplastics.com
Access our IDEA book with special features for your materials library:
www.conwedplasticsIDEAbook.com
---