Product Announcement from Conwed Global Netting Solutions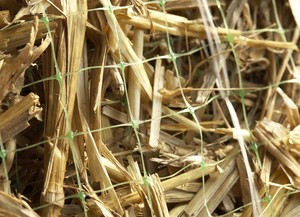 CONTAINMENT
We help you control and restrain all kinds of materials.
Conwed netting is an essential component for customers developing systems and products designed to prevent release of materials or to keep materials from spreading. Our netting portfolio provides strength, resistance, flexibility, drapeability, stretch and recovery as well as lightweight features to help our customers create innovative containment product applications.
We have applied containment capabilities in many industries including:
Erosion Control - blankets, wattles, turf reinforcement mats, etc.
Oil & Gas - oil booms that absorb hydrocarbons and Pipesaver™ that protects pipelines by absorbing rock and debris impact during installation.
Agribusiness - crop harvesting and preservation using bale netting
Cargo and Shipping - infinite options to envelope materials and objects to safeguard them during transportation.
Produce and Meat packaging - innovative packaging designs to facilitate transportation while expanding marketing opportunities for producers and retailers.
Building & Construction -snow and construction fence, protection netting, paving blocks packaging and transportation.
Composites - Conwed netting has great flexibility being combined with different materials such as paper, foam, films, nonwovens, fabrics, textiles, membranes and more.
About CONWED
Conwed is the leading plastic netting manufacturer in the world. Conwed manufactures extruded, oriented and knitted netting with unique customization capabilities. Headquartered in Minneapolis, Minnesota, Conwed has five manufacturing locations on two continents and a global distribution network.
Visit us: www.conwedplastics.com
Access our IDEA book with special features for your materials library:
You have successfully added from to your part list.
---