Conwed Vexar® Filter Net Sleeves
Product Announcement from Conwed Global Netting Solutions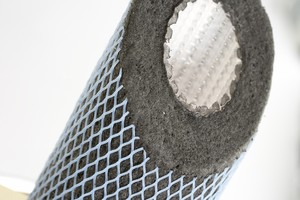 Conwed manufactures plastic netting sleeves that help safeguard and preserve delicate filtration media. Each netting sleeve is designed to meet temperature and chemical resistance specifications and is available in tailored mesh shapes, diameters, lengths, weights and colors. Our netting sleeves can be found in cartridge filtration as well as other protection and containment applications.
Product Features:
•Rust-proof
•Incinerable
•Flexible
•Temperature resistant
•Chemically inert
•High value
•Compatible with other materials
About CONWED
Conwed is the leading plastic netting manufacturer in the world. Conwed manufactures extruded, oriented and knitted netting with unique customization capabilities. Headquartered in Minneapolis, Minnesota, Conwed has five manufacturing locations on two continents and a global distribution network.
Visit us: www.conwedplastics.com
Access our IDEA book with special features for your materials library:
---