Extruded Square, Diamond, and Flat Netting
Product Announcement from Conwed Global Netting Solutions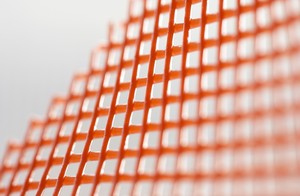 CONWED EXTRUDED NETTING PORTFOLIO
EXTRUDED SQUARE: it is our standard configuration that can also be oriented after extrusion. The mesh size and strand count can be modified and create rectangular or perfectly square configurations.
EXTRUDED DIAMOND: it is extruded netting with a diamond shape configuration. Strands in one direction are laid on top of the strands in opposite direction which creates a unique strand configuration.
EXTRUDED FLAT: it is basically standard extruded square netting with flat joints. In standard netting, joints are slight protuberances formed where strands in opposite directions collide. Certain product applications require flat joints and we can customize joint configurations.
EXTRUDED TUBES: these are extruded plastic tubes in cylinder form. Diameter, mesh size, thickness, weight and many other characteristics can be modified.
HOW IS CONWED NETTING MADE?
Extrusion is the base process for many Conwed products. Extrusion is a melt processing of thermoplastics into netting. An extruder melts and pressurizes the plastic pellets and forces them through tooling in a die to create a netting profile.
After the plastic moves through the die, it is cooled and the plastic hardens into the pre-determined shape. Conwed produces extruded tubes, square, diamond and flat netting.
PRESENCE IN DIVERSE INDUSTRIES
Conwed netting is a versatile component that performs different functionalities depending on the final product application. Whether it is to contain, protect, separate, grasp, reinforce, stretch or support materials and components, Conwed netting delivers superior performance every time. Among some of the industries we serve:
Agribusiness
Air & Liquid Filtration
Animal & Marine containment
Automotive
Bedding and Home
Building & Construction
Cargo and Shipping
Cleaning products
Composites
Crop protection
Erosion Control
Garden applications
Hygiene and Medical
Nonwovens
Produce and Meat packaging
Porous Pavers
Turf and Landscape
NEW TECHNOLOGY & PRODUCT DEVELOPMENT
Our R&D team thrives on exploring unusual, untested, out of the box concepts and we have an open mindset developing new and unexplored applications. So before you assume it can't be done, CHALLENGE US.
http://conwedplastics.com/capabilities/
ABOUT CONWED
With global presence and over 45 years of experience developing performance capabilities for a wide range of industries, Conwed is the leading plastic netting manufacturer in the world.
---