CoolPoly® Plastics FOR Overmolded Heat Pipes
Product Announcement from Cool Polymers, Inc.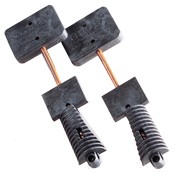 Heat pipes are widely used as part of the cooling solution in today's laptop computers and portable electronic devices. However, hardware designers have to figure out how to get heat in to and out of the heat pipe to actual cool components.
Often heat pipe assemblies become costly since multiple manufacturing steps ar e required. Evaporator and condenser sections must be fabricated. Subcomponents are often plated or treated and the elements must be assembled mechanically or with the use of adhesives or solder.
CoolPoly thermally conductive plastic allows a heat pipe to be encapsulated in the material. Net shape molding allows the condenser and evaporator sections to be formed as well as attachment or other features. Since assembly occurs in the molding machine costs are reduced and low conductivity interface materials are eliminated.
Overmolded Heat Pipes from Cool Polymers provide:
MOLDED EVAPORATOR AND CONDENSER SECTIONS
NO POST ASSEMBLY
LOW CONTACT RESISTANCE
HIGH PERFORMANCE
LOW COST
---