Picking and Fulfillment Systems
Product Announcement from Cornerstone Automation Systems, LLC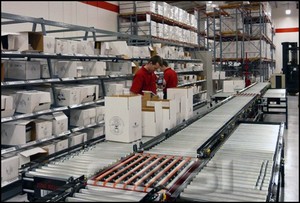 CASI offers order picking systems from the most basic pick and pack systems to the most state of the art automated systems. CASI offers a full line of technologies to automate order fulfillment requirements, ranging from operator assisted to fully automatic fulfillment. CASI applications engineers are experienced in order picking system design and are available to assist in the design of your system.
Picking Methodologies
CASI understands that order picking methods vary as greatly as the distribution centers that methods are used in. The characteristics of the product being handled, total number of transactions, total number of orders, picks per order, quantity per pick, picks per SKU, total number of SKUs, value-added processing such as private labeling, and whether you are handling piece pick, case pick, or full-pallet loads are all factors that will affect your decision on a method for order picking. In many cases a combination of picking methods is needed to handle diverse product and order characteristics.
The selection of the picking methodology should the productivity in picks per hour, the cycle time for the order to get to the shipping dock and the accuracy of the method. CASI offers multiple picking methodologies in our SolidPick™ module allowing our application engineers to match the picking methodology to the operation and ROI requirement.
Picking Technologies
All picking technologies are supported by SolidPick™. Some examples of the technologies included are as follows:
Basic Order Picking using a Pick Ticket is only effective for very low volume DC's. A pick ticket is generated for an order and the order picker picks items for a single order or a group of orders.
Pick to Monitor With the advent of low cost 17 to 24 inch flat panel monitors, using a pick to monitor system is a very good low cost way to accomplish zone picking, particularly where pickers perform other value add activites such as extra scanning or other data entry for high cost or serialized items.
RF Terminal Picking - Picking using RF Terminals is one of the most common picking methods. It provides a high degree of mobility but sacrifices speed, as the scanning functions and small screen slow down the picker.
Pick to Light - Pick to Light is the most popular high volume picking methodology.
Voice Directed Picking - Voice Directed Picking is rapidly becoming the high volume picking method of choise. Lower cost than Pick to Light, voice picking delivers similar picks per hour.
Automatic Dispensing - A-Frame Systems and custom automatic dispensers are used for high volume facilities with a small number of SKU's in high volume.
Mini Load Systems - Mini Loads are used to store and retrieve large numbers of totes in a small area, maximizing the cube of the storage and retrieval area.
Robotic Picking Systems - Distribution centers picking full cases over multi-shifts may benefit from robotic case picking.
For an in-depth look at our methodologies and applications click here.
---