Wedge Wire for high-pressure applications.
Product Announcement from Croft Filters Ltd.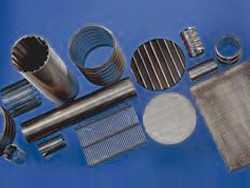 Croft Filters supply wedge wire, a profiled wire used to construct a screen which is both robust and extremely accurate. Usually manufactured from stainless steel, it comes in various forms: flat panels, curved panels, segments or sections, to form floors, discs and drums, and also in a cylindrical form known as a 'slot tube'. Performing extremely well in applications requiring accuracy as well as strength, wedge wire is suitable for maintenance-free situations and high-pressure applications. Apertures range from 0.1mm to 20mm, complemented by wire profiles and support wires.
With a design that helps the screen clear easily and is less likely to peg or blind, wedge wire is a unique material.
Over 20 years of manufacturing expertise
Croft Filters is a leading manufacturer of customer specified filters. These filters can be made in any shape or size and popular styles include cones, cylinders, baskets and screens. Filters can be manufactured in wire mesh, perforated plate and expanded metal with production varying from "one offs" to repeat orders for large international customers.
The company has been trading for over 20 years supplying critical components to industry sectors across Europe and beyond including Chemical, Oil, Gas, Pharmaceutical, Power Generation, Food and Beverage Manufactures, Adhesives, Sealants, Waste Management, Aerospace and Hydraulics.
We believe our competitive advantages are:
Filter Production
Agile Manufacturing
Swift Turnaround on Customised Services
Commitment to understand customer needs
We also supply perforated plate which can be custom punched to precise specifications.
Croft Filters manufactures and fabricates all its products in-house using techniques including micro plasma, seam, arc, gas, MIG, TIG, spot welding and CNC punching.
Using our well-equipped machine shop, punching, rolling and forming of products can be done quickly to specific requirements. Our team of specialist engineers are happy to meet your individual filtration requirements. Croft Filters specialise in providing solutions for precise tolerances and specifications with our attention to detail and product quality providing a competitive advantage.
Croft Filters can work with a wide range of materials including Stainless Steel, Mild Steel, Brass, Metal Alloys and Synthetic Materials.
Croft Filters Interchange service aims to replace throw away filters with reusable, metal filters.
This service helps companies save money, reduce waste and help the environment.
Originally developed as part of a Shell STEP programme, the Croft Filters Interchange is driven by the idea that many companies spend thousands of pounds every year on throwaway filters; a wasteful practice which draws on more resources, harming the environment.
If you are currently using throwaway filters, simply send a sample of your filter to Croft Filters. Our engineers will then assess whether there is an opportunity to supply a metal filter to do the same job, which can be cleaned or refurbished and then reused.
Whatever your filters are used for and whatever level of filtration you require, Croft Filters will look at the possibility of making a reusable filter to replace your current throwaway filter.
---