Managing Lubrication Pump Control Motor-controlled
Product Announcement from Crouzet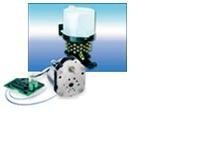 Managing Lubrication Pump Control Geared Stepper Motor
Motor-controlled solution driven by a dedicated electronic PCB to provide lubrication control in trucks and busses.
This is an "intelligent" solution : the electronics interprets and takes account of the climatic conditions and of the characteristics of the lubricant used.
Since the system is embedded, maintenance visits are significantly fewer, so the vehicle is out of service for shorter periods of time.
Crouzet products are sold through a nationwide network of 350+ distributor locations and are supported by a staff of thirty district sales managers & rep firms, two national sales managers, five distributor sales managers, and one national distribution manager. Our sales office provides sales support with applications engineering, product management, and customer service.

Our six state-of-the-art manufacturing locations allow us to better respond to the global requirements of our customers without sacrificing quality or response time;
Ales, France; 110,000 sq. ft. - Motors
For more information, contact Crouzet North America, 2470 Coral Street, Bldg. D, Vista, Calif., 92081-8430; Tel: (760) 597-6322; Fax (760) 597-6320; E-mail: mcnamaj@us.crouzet.com, or visit www.crouzet.com
About Crouzet:
Crouzet North America is an operation of Custom Sensors & Technologies (CST). Crouzet (pronounced cruise-A) started operations in the US in 1978. A global company of about $180 M, Crouzet is headquartered in France, with about 2000 workers in more than 14 countries. The Crouzet motor activity is composed of sub-fractional HP AC, DC, BLDC, and Stepper motors with global sales of $55 M, with a worldwide sales team and adaptation centers to support special OEM applications. www.crouzet.com
About Custom Sensors & Technologies:
Custom Sensors & Technologies (CST) is a specialist in sensing, control and motion products. Through its brands, BEI Kimco, BEI Sensors, BEI PSSC, Crouzet, Crydom, Kavlico, Newall and Systron Donner, CST offers customizable, reliable and efficient components for mission-critical systems in Industrial, Aerospace & Defense, and Transportation markets.
Focused on premium value offers and committed to excellence, CST, with more than 4,000 employees worldwide and sales of $530M US in 2009, is the dependable and adaptable partner for the most demanding customers. www.cstsensors.com
---