Product Announcement from Crown Plastics Co., Inc.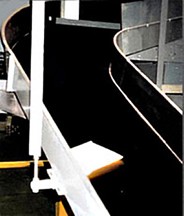 Crown Plastics' adhesive-backed DuraSurf STS (Silicone Treated Surface) UHMW-PE tapes improve material movement while reducing energy consumption in belt conveyor slider beds. Director of Field Support Pete Ellerhorst announced August 6th that two years' testing of DuraSurf STS material installed in package distribution facilities demonstrated energy cost savings of 16-30% or more.
Crown Plastics Co. (Harrison, Ohio) manufactures thin-gauge compression molded DuraSurf UHMW-PE. Available with and without pressure sensitive adhesive, DuraSurf tapes and wear strips have been a staple in the plastics industry for over 30 years. Crown first added silicone-treated DuraSurf STS to its line of DuraSurf UHMW-PE products in 2009. In 2010 the company began manufacturing DuraSurf STS as a chute lining and conveyor belt component for the material handling industry.
DuraSurf STS products are available in .031", .062", .093" and .125" thickness gauges and up to 24" wide. Typical roll lengths are 50' and 100'.

FOR MORE INFORMATION

Phone: Crown Plastics Sales at 513-367-0238 or 800-368-0238.
Email: Sales_Information@CrownPlastics.com

CROWN PLASTICS, PETE'S BLOG:
DuraSurf STS Posting Good Numbers for Energy Reduction

MATERIALS HANDLING CASE STUDIES:
http://www.crownplastics.com/markets/materialshandling
MATERIALS HANDLING CASE STUDY: STS IN PACKAGE HANDLING CHUTES
http://www.crownplastics.com/markets/materialshandling/package-handling-chutes
DURASURF STS BOX DEMO VIDEO:
DuraSurf STS Box Demo at YouTube

TO REQUEST DURASURF STS SAMPLES OR DATA SHEETS:
Email request to Marketing@CrownPlastics.com.
Crown Plastics headquartered in Harrison, Ohio (Cincinnati) in a 55,000
square foot, ISO 9001:2008 certified, manufacturing facility has been
delivering advanced thermoplastic solutions since 1973. In 2008, Crown
Plastics expanded internationally with the addition of a manufacturing
operation in Xiamen, China.
You have successfully added from to your part list.
---