Product Announcement from Cubic Designs, Inc.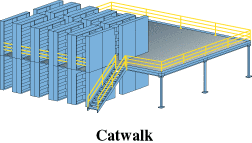 Catwalk mezzanines are ideal for increasing the capacity of shelving or rack storage areas. In many cases, existing shelving uprights provide adequate support for framing members. When shelving uprights are inadequate. Cubic columns are used to support the framing members.
Adding steel mezzanine floors to your warehouse or manufacturing facility can double or triple your existing space at a fraction of the cost of constructing or leasing additional warehouse space. Mezzanine floor installation increases your warehouse space without incurring extra energy costs, property taxes or insurance premiums while streamlining logistics and improving communications by keeping everything in one building. For these reasons and more, steel mezzanine installation is your company's best expansion plan.
A Cubic Designs mezzanine or equipment platform comes with a lifetime mezzanine warranty and will meet or exceed all building code requirements. Because mezzanine floors are not technically part of the building, they are eligible for accelerated tax depreciation compared to new construction.
For environmentally conscious companies, mezzanine equipment platforms are a perfect solution because they help you to better utilize the space you already have, saving resources and energy costs. Mezzanines can also be disassembled and installed in other locations if your company ever moves or needs to increase space somewhere else.
Why A Cubic Designs Mezzanine?
When Cubic Designs performs your mezzanine design and installation, we will travel to your facility to perform exact measurements, making sure your custom mezzanine is a perfect fit for your space. With our on-staff professional engineers, obtaining a PE stamp for your structural mezzanine or equipment platform is a streamlined process. In house engineering and metal fabrication capabilities give Cubic Designs greater ability to connect your mezzanine with walkways, catwalks, safety gates and other structural enhancements. Our mezzanine industry leading design and manufacturing standards, along with our unique powder coat paint process make Cubic Designs mezzanine floors look better and last longer than any other steel mezzanines on the market, period.
For more information about how a custom steel mezzanine from Cubic Designs will 'transform your Cube' into a more efficient space, Call Cubic Designs today at 800.826.7061.
Mezzanines can:
Offset rising space costs
Save new construction costs
Eliminate leased space
Affordable solution that utilizes cube
Double or triple your existing space
Save land acquisition costs
Improve inventory management
Save energy costs
Qualify for accelerated tax depreciation
Create more space without expanding
Customized to fit your exact needs
Expandable to meet growth needs
Easy to disassemble and relocate
Save insurance premiums
Save property taxes
Streamline logistics
Improve communications
Reduce building maintenance
Can be used in warehouse spaces
You have successfully added from to your part list.
---