Product Announcement from Cubic Designs, Inc.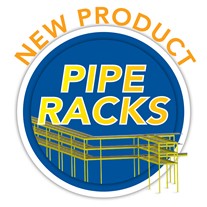 Elevated Pipe Rack Support for Material Processing Lines
Cubic Designs Pipe Racks are pre-engineered, manufactured pipe rack systems designed to support material processing lines including: elevated piping, conduits, cable trays, ducting and other overhead facilities support systems. Pipe Racks elevate facility services lines so that personnel, trucks, rail cars and other equipment can pass easily around the facility.
Pipe Racks are ideally suited for manufacturing and processing plants that require large numbers of facility service connections between production and ancillary equipment, especially when quick and clean installation of the support steel is required.
Typical Uses:
Support mechanical piping systems
Support electrical power and control lines; conduit racks, cable tray/ladder tray, wire way
Support ducting
Support pneumatic material handling systems
Span piping over rail spurs for offloading material from rail cars or external storage silos
Cubic Designs Pipe Racks are custom designed to meet capacities, heights, lengths and other dimensions/specifications as required by your specific applications. We manufacture these systems efficiently and economically in our state-of-the-art fabrication plant, providing added safety and cost savings to you.
Features & Benefits:
Professional Engineered/ PE-stamped design, at no extra charge
Designed to maximize steel efficiency while supporting required loads
Manufactured with heavy-duty square tubing and cold-formed c-channel components
Highest quality manufacturing – AISC and AWS Certified
Powder coat finish provides clean appearance that can be color-matched to plant or equipment
Custom galvanized and zinc rich powder primer finishes available for use in internal and external applications
Uninterrupted facility production during installation
Installation friendly design
Contact us today for a quote!
You have successfully added from to your part list.
---