Product Announcement from Cummins Power Generation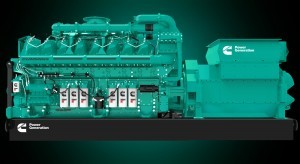 Cummins Inc today revealed at the Seymour Engine Plant the new QSK95 engine with over 4000-hp (2983 kW) output as the world's most powerful high-speed diesel. The 95-liter 16-cylinder QSK95 is the first engine to be introduced in a new high-horsepower diesel and gas platform from Cummins. The new product line will extend up to the 120-liter 20-cylinder QSK120, capable of over 5000-hp (3728 kW) output.
Designed with exceptional strength and high power density, the 16-cylinder QSK95 exceeds the power output of other large 1800-rpm high-speed engines with 20-cylinders. Compared with much larger medium-speed engines operating below 1200 rpm, the QSK95 offers a far more compact and cost-effective solution to achieve the same power output.
The QSK95 is ideally suited for high-hour, high-load applications in passenger and freight locomotives, many types of marine vessels and ultra-class mine haul trucks. Operators can expect higher levels of equipment uptime and a longer life-to-overhaul with the QSK95.
For power generation applications, the QSK95 meets the need for highly dependable, fuel-efficient performance. For offshore oil and gas platforms, the QSK95 will be available as a ready-to-install drilling power module. The QSK95 will power the new C3000 Series genset from Cummins Power Generation, providing a class-leading 3.5-MW high-speed output.
For all applications, the QSK95 is ready to meet the most stringent emissions standards, including EPA Tier 4 Final, taking effect in 2015, using proven Selective Catalytic Reduction (SCR) aftertreatment designed by Cummins to replace the exhaust muffler.
"Our new QSK95 represents a landmark in the evolution of the large high-speed diesel engine, designed with the power and durability to surpass all other high-speed engines while also challenging much larger and higher capital cost medium-speed engines,†said Mark Levett, Cummins Vice-President and General Manager â€" High-Horsepower Business.
"The QSK95 moves Cummins into a significantly higher power class, and we know that many of our customers have been eagerly anticipating us making that move. During the development of the QSK95, we engaged with hundreds of potential users to ensure that we fully reflected their operational and installation needs.
"that's why we purpose-designed the QSK95 to set standards of uptime availability and in-service reliability higher than those of any other engine â€" because our customers see that as a top priority for their business success.
"We are excited to introduce the QSK95, as this is just the start of a new high-horsepower platform for both diesel and gas, covering 12, 16 and 20 cylinders. The gas engines will not be just a derivative of the diesel engines, but uniquely designed for gas. We will release more details about our gas product line during 2013," added Levett.
The QSK95 is pre-engineered to add four cylinders and will achieve over 5000-hp (3728 kW) with the QSK120 engine, moving the boundaries of high-speed diesel performance even further ahead. The QSK120 will utilize the same architecture and systems as the QSK95, providing the advantage of platform commonality.
Cummins has committed major resources to the new QSK95 and the high-horsepower platform, with 150 engineers working on the project and over $100 million invested to establish a new production line and world-class test facilities at the Seymour Engine Plant
You have successfully added from to your part list.
---