Fuel Tanks
Product Announcement from Custom-Pak, Inc.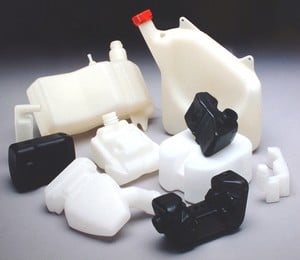 Fuel Tanks
Custom-Pak was one of the first companies in the world to obtain both EPA and California Air Resources Board certifications for blow molded fuel tanks. Custom-Pak is the leading producer of small blow-molded fuel tanks with experience producing for nearly every application. Custom-Pak has the technology to make almost any shape, including shapes that others find impossible to make. Our capabilities are unbeatable in tanks under 10 gallons. Let Custom-Pak show you how to achieve the best total value on your next tank project. Tanks & Tubes
About Us
Custom-Pak is one of the world's largest industrial blow molded parts manufacturers and a leading provider of advanced blow molding technology. Custom-Pak designs and builds energy efficient blow molding machines and sophisticated blow molds. We produce a wide array of blow-molded products in six manufacturing plants. Our plants are modern, clean and non-polluting. We offer responsible, world class services and unbeatable value.
Maximum Blow Molding Capability
Custom-Pak designs and builds the machines and the molds that produce your blow-molded products giving you faster results, better quality and lower costs. At Custom-Pak, we have the capabilities to meet your needs on time and with consistently great quality.
Custom-Pak is one of the world's largest blow-molded parts manufacturers and a leader in advanced blow-molding technology. Blow molding produces plastic structures that are stronger, lighter and less costly than competing processes. Our engineers transform ideas into successful products with remarkable speed and accuracy making Custom-Pak the number one source for extrusion blow molded products.
Superior Products
Custom-Pak designs and blow molds more products used in more market applications than any other blow molding company. The breadth of experience we bring to every project yields better style, easier operation, improved reliability, lower costs and greater customer satisfaction. This product gallery is only a sampling.
Contact Us
The people at Custom-Pak are always happy to answer your questions. Please let us know how we can help you.
---