Product Announcement from Cymbet Corporation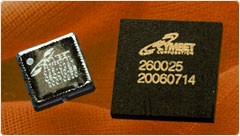 The Cymbet EnerChip™ family of solid-state, rechargeable thin-film batteries is an innovation in energy management and energy storage through nanotechnology. Considered a "component-class" device, the EnerChip provides energy storage in a form factor and with a convenience not previously attainable using conventional solutions such as batteries and super capacitors. Cymbet's EnerChip family is well suited for applications where battery backup power is needed to maintain the settings of microcontroller memories, real-time clocks and SRAM during power loss or power failures. The devices can provide back-up power ranging from a few hours in extreme situations to several weeks depending on the stand-by current requirements of the system. In many cases, an EnerChip functions as a green battery, providing many hours of operation between recharges. When coupled with energy harvesting or energy scavenging techniques, these devices can provide the energy storage to build self-contained, long lived powered systems that have minimal negative environmental impact.
Because of their solid state design, EnerChip batteries are able to withstand solder reflow temperatures and can be processed in high volume manufacturing lines similar to
conventional semiconductor devices. There are no harmful gases, liquids or special handling procedures, in contrast to traditional rechargeable batteries.
EnerChip devices are available in capacities of 12, 50 and 85uAh and are packaged in standard surface mount packages.
You have successfully added from to your part list.
---