Non-cytotoxic EnerChip Batteries for Medical
Product Announcement from Cymbet Corporation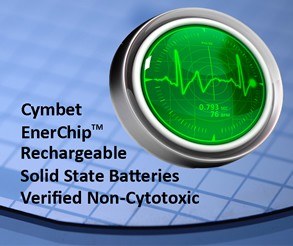 EnerChip™ rechargeable solid state batteries are the ideal energy storage device for all miniature medical, fitness and healthcare sensors, patches and wearable technology.
Medical testing has shown the gamma sterilized Cymbet EnerChip™ bare die batteries were found to be non-cytotoxic (0% cell lysis) using both the Medium Eluate Method Eluation Test and Agar Diffusion Test feasibility screening procedures. The lack of any adverse biological responses in these very sensitive in vitro cell culture assays is indicative (although not a guarantee) of biocompatible test results in the other in vitro and in vivo aspects of biocompatibility as suggested by the ISO 10993-1 and FDA G95-1 guidelines.
Cymbet EnerChip solid state batteries are uniquely fabricated using standard semiconductor integrated circuit processes with patented construction techniques. EnerChip batteries are REACH compliant as they contain no hazardous substances as shown on the Substances of Very High Concern (SVHC) candidate list published on the European Chemicals Agency (ECHA) website. Additionally, EnerChip rechargeable solid state batteries have been fully tested as RoHS compliant.
You have successfully added from to your part list.

Play Non-cytotoxic EnerChip Batteries for Medical Video
---