Product Announcement from DEHN, Inc.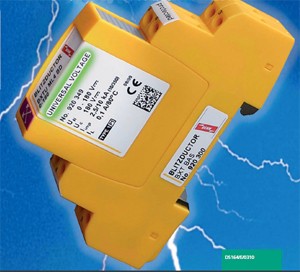 BLITZDUCTOR XTU combined lightning current and surge arresters for the protection of information and automation systems stand out due to their new, revolutionary technology: The nominal voltage is not specified thus the arrester can be used for any voltage in the range from 0 to 180 V d.c. Its innovative technology allows the arrester to automatically detect the signal voltage of the wanted signal and to adjust its protection performance to this voltage. Moreover, it continuously adjusts its voltage protection level to the operating voltage currently applied and is thus ideally suited for all applications where changing voltages occur.
In case of interference, BLITZDUCTOR XTU arresters always have an adjusted, minimal residual voltage for every signal voltage thus providing maximum protection for the devices and systems connected to them.
BLITZDUCTOR XTU arresters also considerably reduce planning efforts and minimize storage requirements. Even if it is not known at the planning stage which voltages are used for signal transmission, BLITZDUCTOR XTU arresters now allow to specify a concrete protective device even at the planning stage thus facilitating procurement and storage at the execution stage of the project.
BLITZDUCTOR XTU arresters are also ideally suited to be retrofitted into existing systems or to replace existing arresters as it is frequently not entirely clear which types of nominal voltage are to be used. This does not matter if BLITZDUCTOR XTU arresters are used.
Universal lightning current / surge arrester
With actiVsense technology

Automatically detects the operating voltage of the wanted signal from 0 to 180 V
Optimally adjusts the voltage protection level to the operating voltage currently applied
Low voltage protection level, also suited for the protection of terminal equipment

Eases your processes

Reduction of the variety of types
Only one type of SPD for different signal lines
Easy planning and storage
Can be easily retrofitted
You have successfully added from to your part list.
---