Crushers, Lumpbreakers, Shredders, & Mills
Product Announcement from DELUMPER® Division, Franklin Miller, Inc.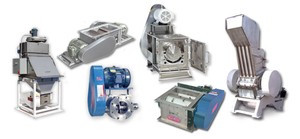 FMI Delumper® Division's crushers, lumpbreakers, shredders, mills, mixers and other processors have proven invaluable in reducing plant downtime, improving processing and product consistency, cutting waste and solving a wide variety of tough size reduction applications.
In addition to our broad line of stock models, we custom engineer special machines or complete systems to meet application requirements.
Read our general brochure (PDF) by clicking here.
This Size Reduction Paradox article discusses the excellent quality of equipment that is being designed in spite of the lack of a single general theory. Read more here.
---