Delumper® DC1218 Crusher
Product Announcement from DELUMPER® Division, Franklin Miller, Inc.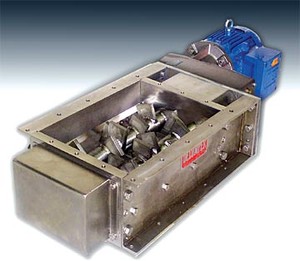 The DELUMPER DC1218 employs an effective twin-shaft crushing mechanism in a compact housing to crush, chop and destroy a wide range of wet, dry or moist materials. This unit can reduce lumps, chunks, coal, cement, limestone and more to their basic grain size. It freshens and enhances product while eliminating flow blockages and impediments.
Solids up to the unit's full inlet size drop straight into th-e unit inlet and are aggressively chopped by the interaction of the two rotors and the unit's stationary bar grating. The material then drops out the discharge of this straight through unit.
The DC1200 is available in carbon or stainless steel construction. Optional hardfacing can be applied to all cutting elements for long life in abrasive service environments. The DC1200 measures only 8 inches (203mm) from inlet to outlet. Units are available with inlet and discharge opening sizes from 12" x 12" (305mm) up to 12" x 30" (350mmx762mm).
---