Taskmaster® Industrial Shredders
Product Announcement from DELUMPER® Division, Franklin Miller, Inc.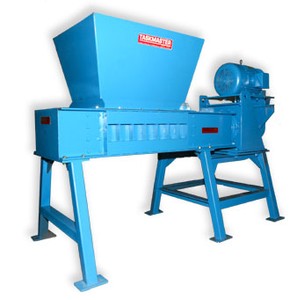 Taskmaster® Industrial Shredders
Versatile TASKMASTER® shredders and employ a low speed, high torque mechanism for powerful reduction of tough and bulky waste solids. The TASKMASTER comprises a complete line of shredders, grinders and shredding systems for a wide range of applications including the following models:
TASKMASTER® TM8500
Compact 8" Twin Shaft Shredders
The TASKMASTER TM8500 series packs a powerful twin-shaft shredding mechanism into a compact housing. These units reduce a variety of solids to fine particles with a positive, self-feeding counter-rotating cutting mechanism.
TM8500 units offer superior twin shaft performance, a variety of available cutter configurations for fine or coarse output, an effective mechanical seal system, low speed, high torque operation and a direct cycloidal gear drive
The TASKMASTER TM8500 series has unique versatility. These units can be installed in either wet, dry, gravity or pressurized environments. They can be configured for channels or chutes. Install them with flange transitions into pipe systems to protect pumps and process equipment. When equipped with a stand and hopper, their powerful shredding capabilities can be employed for reducing wet or dry bulk waste.
Inline: These units protect plant processes and equipment by finely reducing tough waterborne solids such as rags, plastics, woods, mops, tampons, sanitary napkins and more.These units reduce pump ragging and downtime, defend sensitive filter presses and centrifuges from premature wear and puncturing, facilitate further processing or disposal and more. They are designed for channel installations, horizontal or vertical mounting and gravity or pressure systems.
Gravity Systems: The TM8500 is available in a variety of chamber lengths with hopper and stand for dry gravity systems. This unit can handle such items as screenings, packaging, concession waste, manufactured defects, pharmaceutical waste and more.
TASKMASTER® TITAN
Powerful, Efficient, Versatile Shredder
The TASKMASTER TITAN (TM14000) matches the shredding capability of units employing twice to three times the power and costing thousands more. This unit can reduce such items as packaging, wood, plastics, paper, wastewater, components, bottles and containers, waste materials, electronic components, bulky items, rejects, foodstuff, cardboard boxes, bottles, cdroms, floppy disks and more.
Unlike other shredders, the TASKMASTER TITAN's unique design employs two counter-rotating intermeshing banks of cutters with one cutting stack having a much smaller diameter than the second. The result is a high capacity, shredder with a substantial inlet opening size that does more with less power.
The TASKMASTER TITAN employs a 5hp motor and cycloidal gear drive, and cutting chambers from 14" x 16" to 14" x 60" (355x1524mm) inlet cutting chamber.
The TASKMASTER TITAN is provided with an S260 Automatic Jam Sensing Controller. This control senses jam conditions and automatically reversses the unit momentarily to clear the obstruction. For more Details on Grinder Controls>Click Here
TASKMASTER® TM1600 Series
Twin Shaft Shredder For Solids/Liquids and Institutional Waste
The TASKMASTER® Model TM1600 is a powerful workhorse that can shred heavy solids in both gravity and liquid systems. This unit can be installed horizontally with a stand, hopper vertically for channel or pipeline applications with flange adapters.
Typical applications include rejects and returns, garments, filters, containers, plastics, turnings, packaging, wood, paper, documents, electronic components, concession waste, sewage screenings, in-channel raw sewage, correctional institution effluent and more.
The TM1600 features a fully sealed body housing, 2-3/4" hardened hex shafting, mechanical seals and direct inline or optional right angle gear drive. Options include: stainless steel construction, enclosed hopper, flange adapters, channel frames, infeed conveyor, discharge washer or compactor, hydraulic drive, space saving right-angle gear drive and more.
Taskmaster® TM2300
Taskmaster® Model TM2300 Series
The TASKMASTER TM2300 is a versatile, heavy-duty, twin shaft shredder available with up to 50 hp drive to handle such applications as waste, rejects, packaging materials, hides, containers, recycling, rendering, pulp and paper, plastic and plastic drums, crates, pallets, medical waste, cans, PET/HDPE bottles, computer printouts, pharmaceutical rejects, concession waste, newspapers, and much more.
The TASKMASTER TM2300 features a unique split body design that allows for the fast and convenient removal of each cutter stack as a complete assembly. This facilitates fast turn around of cutters for maintenance.
This unit features a heavy 3-1/2" alloy steel hex shaft, planetary gear drive, inline c-face motor, heavy 2-tooth cam cutters as well as a variety of other special cutter configurations.
The TASKMASTER TM2300 is typically provided complete with input hopper, stand and automatic reversing controls. Auxiliary equipment includes conveyors and packing ram assists, feeders, scales, air filters, liquid handling systems and more.
Taskmaster® TM2800+
Taskmaster® Model TM2800/TM3200
The TASKMASTER Models TM2800 and TM3200 are suitable for a variety of shredding applications that demand high power, large throat openings and extra-heavy duty construction. These units employ up to 150 hp motors and planetary gear drives to generate massive force to the cutters. They have proven their unique versatility and dependability in a wide variety of applications worldwide.
Model TM2800:
The TM2800 has such heavy construction features as 5" heat treated alloy steel shafting, 2" cam cutters, heavy steel plate and channel body construction and up to 75 hp motor and planetary gear drive. The TM2800 can reduce such items as: pallets, steel drums, wood, documents en masse, electronic components, hard drives, hazardous waste, solid propellent, plastic sprues and purgings, tires and manufactured items. These units are provided with a throat opening of 28" x 30" (711mm x 762mm) up to 28" x 72" (711mm x 1828mm).
Model TM3200:
The TM3200 features 8" alloy steel shafting, 2" cam cutters, heavy steel plate and channel body construction and up to 125 hp motor and planetary gear drive. These units are available with a throat opening of 32" x 32" (812mm x 812mm) up to 32" x 96" (812mm x 2438mm).
This powerful unit shreds: heavy wood items and pallets, construction debris, tires, automobile components, large or heavy steel drums, sheet metal components, plastic sprues and purgings, manufactured items and more.
TASKMASTER TM2800 and TM3200 options include: packing rams, sealed body for submerged or liquids service, hydraulic drives, system integration, chassis mount for mobile usage, air filtration, conveyors, scales, drum dumpers and more.
---