EC-Electric Screwdrivers Cordless
Product Announcement from DEPRAG, Inc.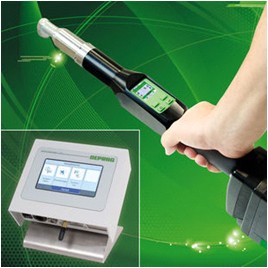 A battery-operated screwdriver also comes into its own on moving assembly lines. If there is no cable, operators can move along with the assembly line and carry out the fastening operations, for example, on assembly lines for refrigerators or switch cabinets. This type of screwdriving technology has a great future in areas where space is tight, or on moving assembly lines.
Modern lithium-ion batteries have convinced even the most skeptical. Previously, users were often unhappy with cordless tools because the work cycles were too short. But there is no comparison when it comes to today's batteries. They are many times more efficient, have a much lower self-discharge rate, and the feared memory effect is a thing of the past.
The 36V li-ion battery drive on our new angled screwdriver offers maximum energy and power density. Braking energy from the electrical drive motor is recovered to ensure that extremely efficient and economical use is made of the energy stored inside the battery. This energy efficiency and sensor-controlled multi-step standby mode can perform a large number of screwdriving operations for each battery charge. The use of high-quality EC motors with outstanding efficiency coefficients and extremely high power density ensures that the tool is light, and has a long service life. Batteries are recharged and ready for operation in approximately 30 to 40 minutes.
---