Totally Handheld Screwdriver
Product Announcement from DEPRAG, Inc.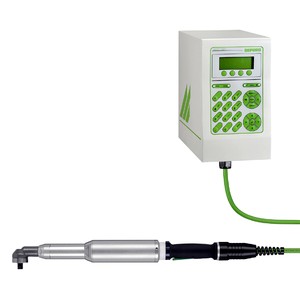 The brushless EC-motor is the reason for the maintenance-free operation, eliminating wear-and-tear parts. It also achieves a high motor dynamics and is capable of reaching the necessary high peak-torque required for tightening of large fasteners.
The precision level of the integrated transducer is less than 3% standard deviation.
This screwdriver series is currently available as an Angle-Head tool having a torque range of 106 – 531 in.lbs. and a programmable speed of minimum 25 rpm and maximum 550 rpm.
To operate the Screwdriver, a sequence controller (AST 30-31) with integrated power supply and a motor-cable is necessary. The motor-cable is available in different lengths.
The sequence controller already contains ready-to-use basic programs with common tightening processes, so that the operation can take place using just a few steps.
This necessitates the connection between a standard PC and the - with every controller supplied - very user-friendly Windows®-Software TC 30-PC. Software additions (Statistics, etc.) can be supplied as options on special request.
---