Product Announcement from DESCH Canada Ltd.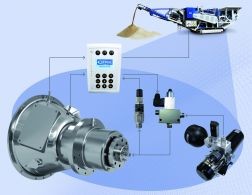 Controlling the force - a service based on experience
Construction machinery such as impact mills, jaw crushers, shredders etc., usually have clutches integrated in the transmission line. The large rotor mass to be accelerated makes these machines' start-up process a challenge for the diesel motor and the clutch, time and time again. It is important to keep the drop in motor speed as low as possible in order to keep it running within the optimal speed range during the start-up process.
The new system control DESCHcontrol.S, developed for the hydraulically-activated DESCH Planox® clutch series PHA, allows this start-up process to proceed fully automatically and well regulated.
For this purpose, the clutch on both the drive and output side is equipped with speed sensors and coupled with the DESCHcontrol.S control unit. Furthermore, a pressure sensor is also incorporated into the control loop. Using the software program which is specially developed at DESCH drive technology, integrated in DESCHcontrol.S, a decidedly smooth start-up process is initiated and monitored.
The drop in the speed of the diesel motor is used as a criterion for continuation of the start-up process, allowing the motor to accelerate the heavy mass of the machine within its optimum power range. This minimizes both the motor's consumption and its emissions.
DESCHcontrol.S. - the innovative system solution for the synchronisation of heavy-duty drives
To ensure optimal utilisation of the clutch during this soft start, DESCHcontrol.S monitors the clutch thresholds recorded in the control system.
At the same time, the thresholds entered in DESCHcontrol.S are also used for monitoring, preventing incorrect operation such as initiating a start-up process when the machine is blocked.
If the permissible acceleration time is exceeded due to sluggish machine movement, DESCHcontrol.S aborts the start-up process and signalises the error in a display. The cause of the blockage can then be resolved and the machine can be re-started.
This ensures that the motor and clutch power is fully utilised, and guarantees maximum machine uptime. Detailed status information for the machine start-up process is shown in the DESCHcontrol.S display and leaves none of the machine operator's questions unanswered!
Advantages of DESCHcontrol.S:
Negligible drop in diesel motor speed during the acceleration process
DESCHcontrol.S adapts the clutch speed to the effective motor speed!
Incorrect operation is no longer possible
Comprehensive clutch monitoring
Very low residual clutch speed due to forced ventilation
using DESCHcontrol.S, a communication with the machine controls is possible
Self-contained complete system consisting of DESCH Planox® clutch, system control DESCHcontrol.S and optional hydraulic power pack
You have successfully added from to your part list.
---